If you aren't sure what traditional Portuguese food to try in Portugal it's completely fine because just about every meal will leave you wanting to scoop the last bits of goodness off your plate. Having my very own Portuguese tour-guide AKA Steffan, really helped being able to completely immerse in the culture and find the good spots particularly when it came to food. Before we'd even left Australia, there were five dishes I knew I had to try in Portugal and all five of them did not disappoint. So for those travelling to the most western country in Europe and aren't sure what to eat, do yourself a favour and try all or at least some of this traditional Portuguese food.
1. Bacalhau (Ba-kal-yow)
This is dried and salted cod with potatoes which when cooked together becomes absolute heaven in your mouth. Portugal is very well-known for it's fishing so trying this is definitely a must if you really want to experience the culture. It shouldn't be hard to find as most restaurants will serve this delicious traditional dish.This is what it looks like when sold at the supermarket but from what I've learnt it can be cooked in many different ways. The most traditional way is to boil the Bacalhau, potatoes and either chickpeas or greens with a boiled egg, olive oil and vinegar. Some people choose to add bits of garlic in it too.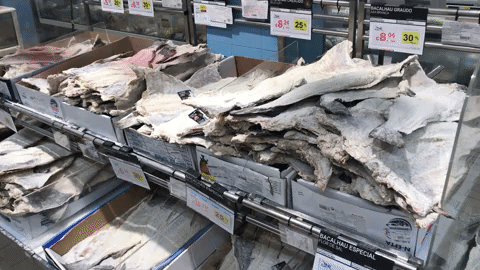 2. Frango
For those of you from Sydney, there's a high chance you've had 'Frangos' before. For a long time I was under the impression that Frangos was just the name of the popular restaurant. However Steffan brought to my attention that the word 'Frango' does in fact translate to 'charcoal chicken' in Portuguese. So many restaurants had large signs that said Frango. It made a lot more sense once I understood the meaning instead of than thinking all of these restaurants had the same name. The tasty charcoal chicken is paired with some delicious patatas fritas (chips) and rice.
3. Lei-Tão
This cooked pig is one of Portugal's most popular delicacies which when cooked correctly is the perfect balance of crispy on the outside and soft on the inside. The word Lei-Tão translates to 'suckling pig' which is spit-roasted to achieve tender meat with crispy skin. Majority of Portuguese restaurants will serve this and serve it well. We were lucky enough to enjoy this at one of Steffan's aunty's places which went down well with some potato chips, salad and oranges.
4. Baby Goat
I cannot recommend one restaurant enough if you do visit Sintra. We were only there for one night so the lovely lady at our hotel, Quinta de Sao Tadeu, suggested we try Curral do Caprinos which was a bit out of the busy city but was probably my favourite meal during our whole time in Portugal. Their specialise in fish and kid (the baby goat kind) so we chose to have kid as something we wouldn't usually have. The way they cooked it was absolutely superb and although it was slightly more pricey than other restaurants it was definitely worth it.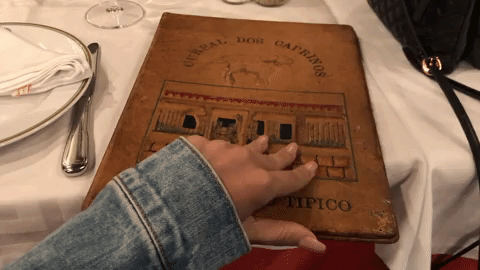 5. Portuguese Tart
Once you've finished eating the 'main meal' Portuguese food, it's important to leave a bit of room for dessert. Not even exaggerating, of all the tarts I've had in my 23 years, not a single one compares to the pure amazingness of the Portuguese tarts in Portugal. Every single one and just from any old cafe, did not disappoint. The Portuguese really do know how to bring sweet and savoury together in the form of a small scrumptious tart. I believe they consist of eggs, sugar, pastry and a few other naughty things but I did spoil myself with a few throughout the trip and did not regret it whatsoever.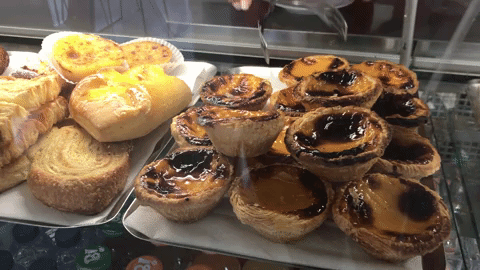 There's many restaurants that serve these all of these dishes so you shouldn't find it too hard to get your hands on.
We hope you enjoyed this article about the different Portuguese food you have to try in Portugal, find out about more of our European experiences here.